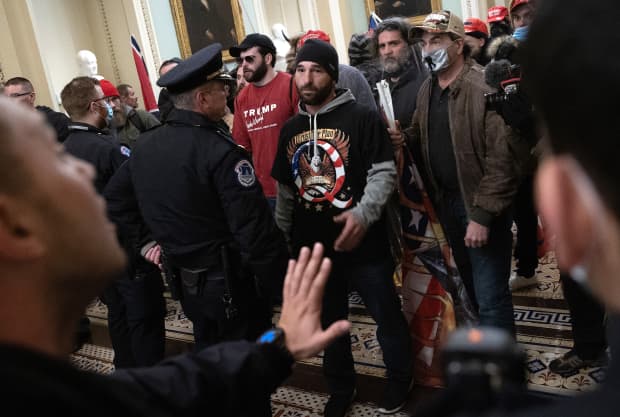 As a country we witnessed a siege on our nation's Capitol Complex on January 6th. We watched the breach of our Congressional facilities and the literal looting of our citadel of democracy.  What to me was extremely difficult to watch was how the District of Columbia and Capitol Police were treated by the demonstrators. 
Over 50 officers were hurt, 2 died, the verbal abuse was substantial and yet we saw officer after officer standing their ground as much as they could to protect our legislators and our Capitol Complex. Officers were pushed, sprayed with mace, threatened, chased, physically assaulted and some of them were physical pummeled almost to unconsciousness and dragged from their post with little regard for their life.
I can't imagine some of the emotions, trauma and experiences these police officers are now discussing in their homes and workplaces. I am sure many of them are proud to protect the hallmark of our democracy and last week they have paid a serious price for just doing their job.
There will be a great deal of discussion about the lack of adequate support for them but that will not replace the impact to their psychological state and the traumatic impact of this horrific day in our nation's history and their lives. I think the mental images will be haunting them for some time and they will have flashbacks of the danger they were in during this insurgence.
This represents what happens to law enforcement officers almost every day. They encounter highly dangerous circumstances that can be significantly traumatic while they are attempting to serve and protect our citizens and communities. Their jobs can be mundane at times but at a moment's notice they could be dealing with violence, danger and mental health crises.
The cumulative effect of these encounters can create secondary trauma which they carry with them to their homes and can have impact on their ability to do their jobs effectively. They can be living in high threat and be very reactive without knowing why. They can have some of the same PTSD as we find in our veterans which leaves them vulnerable to anxiety, depression and even suicidal tendencies.
After the incident on January 6th, Representative Dean Phillips from Minnesota tweeted these words, "Our officers need more than gratitude.  They need authentic, capable leadership and meaningful support!" I can't agree more and yet there is still little or no personal support and/or therapy for these officers who have been severely traumatized while protecting our country's legislators.
There is no harm in expressing our gratitude and we should do that regularly. However, what is most needed is much more intentional strategies to support our law officers with programs, group support, individual therapy and other ways that will help them deal with the intensity and stressors in their job. We should not wait for a personal crisis to provide them with the on-going support that they need. We have seen what can happen from the siege last week. Our best appreciation should be more than words. It must be tangible support that will help them cope and recover with some of the danger and adversity that are a regular part of their everyday experiences. They are public servants that need our support and capable leadership on their behalf. We need to support them while they protect us.
Gerry Vassar
President/CEO